Season 2 Villians Poster Part 1 
Nightmare Moon and Queen Chrysalis

I saw this browsing pony merch and had a moment of clarity. It became clear to me very suddenly that nearly all the villians are variations on a theme - Those who have sold out or given up, and accepted and glorified their flaws as their identities.
What is especially interesting and very telling is that regular ponies who aren't "evil", but instead merely modern self centred jerks, are lumped in with the mythological Big Bad guys/girls. It seems strange until one realises that the Big Bads are just further down the same path, are metaphors for the adult, more destructive narcissist rather than the brattish child.
If Friendship is Magic, then these characters are atheists. Their behaviour centres not on something larger and more important than themselves, but on the base material world and their whims and desires. Their path leads to internal chaos and creating chaos; causing ones own life and others to destructively spin out of control. So. Let's begin.
Nightmare Moon
Nightmare Moon is Celestia's younger sister, Luna, but in her Big Bad form. In the Season 1 pilot, the combined magic (friendship!) power of the mane cast shatters her Nightmare Moon armour. Revealed is a much younger and much more timid Princess Luna.
Of our menu of Cardinal Sins, Nightmare Moon begins with envy, leading to ressentiment towards her elder and a deep bitterness. In the little opening origins movie that explains this, she is shown turning away from reason in refusal of her sisters acceptance. She does not and is not meant to raise the day, but cannot help but envy her sisters role, and fails to see the importance of her own. Appreciation of another without appreciation of oneself leads down Nightmare Moon's path. The solution to the emotional pain of resentment? Destroy that which reminds you of your perceived inadequacies. In Nightmare Moon's case, battling her sister for control of Equestria in order to impose Eternal Night.
If envy created her, then pride sustains her. Destruction and control through fear becomes the sustenance the ego craves when it believes it cannot create worth or fulfill it's potential; it becomes intoxicated on power-crazed defiance of what is. Not having friends doesn't seem to matter too much when you're a God-like Alicorn who can impose eternal night (or gun down unarmed moviegoers). But is Nightmare Moon happy? No, certainly not. But she wouldn't change without radical intervention and enough verbal firepower to break her emotional barriers.
Queen Chrysalis
Queen Qhrysalis and her horde of imitators are sociopathic statists - Malovelent and alien. Whereas Nightmare Moon seeks to abolish the day to quieten her internalised despair, she feels that despair because she is of Equestria. Chrysalis is of a different breed entirely, as are her minions. They are xenos, they do not come in peace; They want to tear up the surface of the planet and cover it in a black secretion that suits them better; War of the Worlds style.
Chrysalis and her lemmings are Pod-People style invaders. They walk among the populace, taking on their forms, customs, mannerisms, using deceit and imitation of the authentic as a passport to the highest echelons of power.
Princess Cadance proclaims that the impostor is a changeling, a creature that takes the form of those that are loved and gains power by feeding off the love for them.
Chrysalis and her pals at their most base level are energy vampires. These people pretend to be what you love and care about, but take everything you have and give nothing back. They believe themselves entitled to it.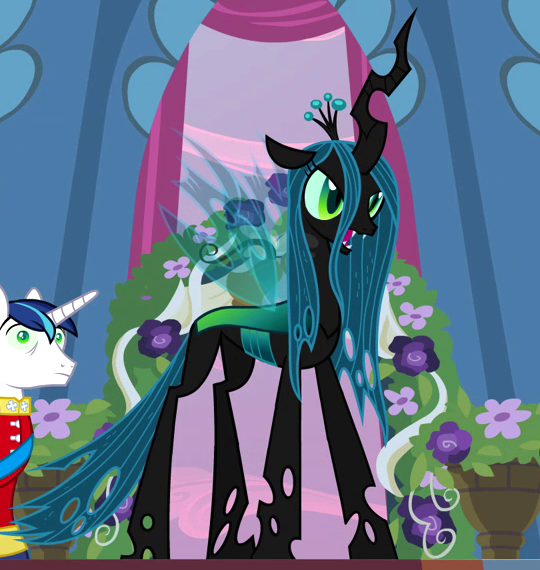 I'm going to carry this on for all the characters on this poster. Hopefully by the end of it we will have a good understanding of everything this show has to teach us so far. I was going to do it all in one hit, but not today.
Buttercup.